Welcome to Stop Spraying Maine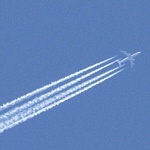 This website is all about geoengineering—the intentional spraying of 20 to 30 million tons of toxic aluminum and barium particles into the air.
You're breathing it right now. Your government calls it "geoengineering". Community leaders call it "dangerous" and "highly-toxic". It is the largest aerial operation in human history and is raising serious concerns among scientists about its relationship to illnesses now spreading among plants, animals, and humans. It's very expensive, very destructive, and you need to know about it. Learn More...
More Information

Learn more about this massive aerial spraying program and how it affects you.

Video/Image Gallery

View and share video and images of mass-aerial spraying programs in Maine.

Get Involved

Want to help stop geoengineering - chemtrail spraying? Here's what you can do right now.

News Feed

View the lastest news and information related to aerial spraying in Maine.

Community Forum

Visit our forum to connect with others who are working to stop chemtrail spraying

Newsletter

Receive news and information in your email box.